Get a Naturally Beautiful Smile!
If you are missing multiple teeth, dentures may be a solution for you. We provide full and partial dentures to restore the function and appearance of your smile.
Image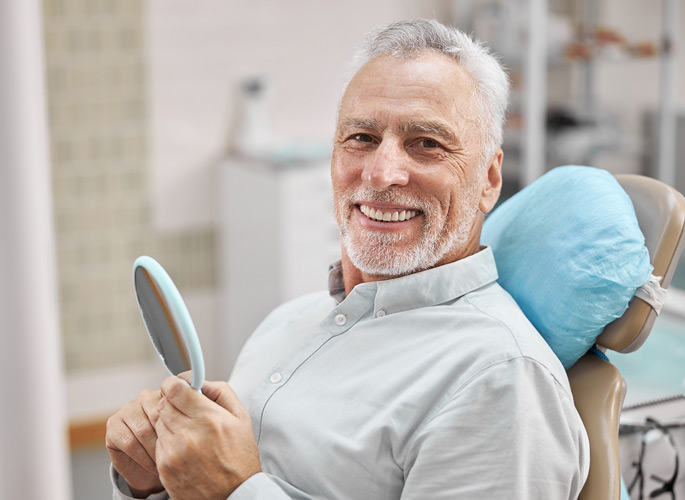 Why Wear Dentures?
Dentures have been used by dentists for centuries to replace missing teeth. Today's modern dentures are made from advanced composite materials, but they serve the same function: to restore the appearance and function of missing teeth. Dentures also restore the appearance of your cheeks and mouth by reducing the "sunken" look that can happen after tooth loss. They come in a wide variety of types and styles to suit your unique needs.
Book Now
Full Dentures
Complete, or full dentures replace all the teeth in a single arch. They restore the appearance of your smile and let you chew and speak normally. Full dentures are designed to look and feel natural while you wear them.
Video: Full denture
Partial Dentures
Partial dentures replace a single tooth or multiple teeth. They are designed to be comfortable and blend in with the rest of your natural teeth without slipping or shifting while you eat or talk.
Video: Removable partial denture
Image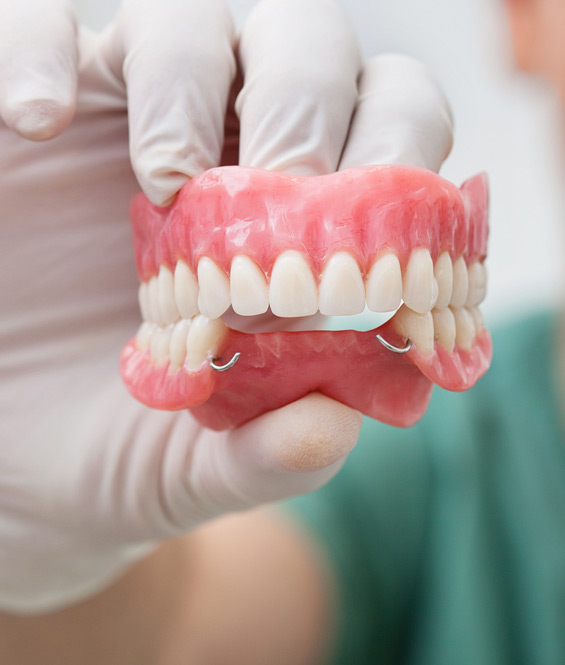 Frequently Asked Questions
My dentures are slipping, uncomfortable or broken. What can I do?
Your dentures should fit comfortably without slipping. If yours are uncomfortable or are slipping, bring them to our office for adjustment or repair.
How do I care for my dentures?
Remove and rinse dentures after every meal to remove food particles. At the same time, you can clean your mouth and brush your teeth before putting your dentures back in. Clean your dentures with a soft brush and denture solution every night to remove food and stains, and put them in a denture solution overnight to keep them moist so they keep their shape.
Your dentist will also give you a schedule to bring your dentures in to be checked and cleaned to make sure they're in good condition and fit properly.
Will dentures affect my speech or eating habits?
Dentures can have a minor impact on your speech so you will need to practice to get used to speaking while wearing them. It can help to practice by reading aloud to yourself.
They can also affect your eating habits, especially when you are chewing food. Your dentist or denturist can help you learn to chew properly with dentures and which foods to choose or avoid eating.
Related Videos